2023 Nano Division Young Professional Award
Keith Gourlay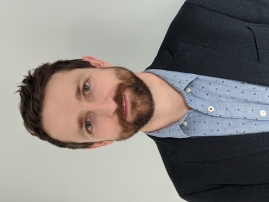 Performance Biofilaments
Keith Gourlay has a PhD in Forestry from the University of British Columbia and has over 10 years' experience in bioproducts research. Gourlay achieved his bachelor's degree in Biochemistry from Queen's University in Ontario, Canada in 2008. He then went on to complete his Masters in Research from The Imperial College of Science, Technology, and Medicine in London, UK in 2009. 
Gourlay now works as the Director of Technology Development at Performance BioFilaments Inc, where he leads the development of new applications for nanofibrillated cellulose in areas such as composites, concrete, nonwovens, and mining applications. Keith is passionate about driving positive environmental change through the industrial implementation of new high-performance sustainable products.
He has served on the Research Committee and Producers Committee for the TAPPI Nanotechnology for Renewable Materials Conference since 2018. 
2022 Nano Division Young Professional Award
Renato Damásio
Klabin
Renato Damásio completed his master's degree in Pulp and Paper Technology from the Federal University of Viçosa in 2015. Damásio conducts focused research on nanocelluloses as a source of nanomaterials in the ultrastructure of nanocrystalline and micro-nanofibrillated cellulose as well as its production, application and incorporation.